archives : a - audio, v - video, p - pictures
FRENCH VERSION


CORPUS/ MAISON DU PEUPLE
INSTALLATION - 30 NOV. > 2 DEC. 2012 - 15 > 20h - CLICHY - FRANCE



GOOGLE MAP | ABOUT THE CORPUS PROJECT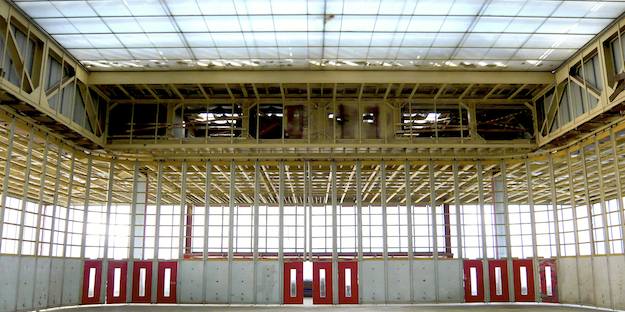 ---
FRANCAIS
---

CORPUS -
MISE EN RÉSONANCE
DE LA MAISON DU PEUPLE
CLICHY, FRANCE -
VERNISSAGE - LE SAMEDI 1ER DECEMBRE 2012 - 18h00 à 22h00
INSTALLATION - DU 30 NOVEMBRE AU 2 DECEMBRE 2012 - 15h00 à 20h00

MAISON DU PEUPLE
La Maison du Peuple est un bâtiment construit de 1935 à 1938 sur la commune de Clichy dans les Hauts-de-Seine par Marcel Lods, Eugène Beaudouin, Jean Prouvé et Vladimir Bodiansky. Ce fut le premier bâtiment préfabriqué à mur-rideau et ossature métallique édifié en France. La Maison du Peuple de Clichy est à la fois un joyau architectural de la première couronne et un bijou mécanique.

La série Corpus propose une approche singulière de l'architecture, visant à révéler la musicalité propre à différents bâtiments en excitant leurs multiples fréquences de résonance. Ce projet offre une expérience de l'espace construit à la fois physique et fantomatique. Chaque événement particulier de la série prend la forme d'un scénario unique. Le temps d'une installation ou d'un concert en public, les matériaux et les structures du site choisi sont activés par des basses fréquences et révèlent les qualités acoustiques de l'architecture et du contexte environnant. En parallèle certaines réalisations sont enregistrées et donnent lieu à un film documentaire.



---
ENGLISH
---

CORPUS -
RESONANT ARCHITECTURE
AT MAISON DU PEUPLE
CLICHY, FRANCE -
OPENING - DECEMBRE 1ST 2012 - 6 TO 10PM
INSTALLATION - NOVEMBRE 30 TO DECEMBRE 2, 2012 - 3PM TO 8PM

CORPUS is a project that brings together sound, visuals and architecture. Based on the principle of vibration in resonance with the built environment, the sound system consists of speakers, vibrators and a score generated in real time incorporating pure frequencies. The Corpus series as a whole offers a unique approach to architecture, revealing the unique musicality of specific buildings by exciting their multiple resonance frequencies. Each special event in the series takes the form of a unique scenario, providing a physical and ghostly experience of built space. For the duration of the installation or public concert, the specific materials and structures of the chosen site are activated by low frequencies and reveal the acoustic qualities of the architecture and it's surroundings. In parallel to the live events, some performances are recorded and shown in the form of a documentary film.



---
GERMAN
---

CORPUS -
ARCHITEKTUR ALS RESONANZKÖRPER
MAISON DU PEUPLE,
CLICHY, FRANKREICH -
ÖFFNUNG - 01.12.12 - 18:00 > 22:00
INSTALLATION - 30.11.12 > 02.12.12 - 15:00 > 20:00

Als Projektensemble stellt "Corpus" einen außergewöhnlichen Ansatz im Bezug auf die Musikalität der Architektur dar, indem es die Klangfarben einzelner Gebäude hörbar macht, durch die Erregung ihrer multiplen Resonanzfrequenzen. Der gebaute Raum wird so zu einem geisterhaften und physischen Erlebnis. Jede Performance des Ensembles entwickelt Ihre eigenes charakteristisches Szenario. Die ausgewählten Materialien und Baustrukturen, die Länge des Konzertes und der Installation werden aktiviert durch die tiefen Frequenzen und enthüllen die akustischen Qualitäten der Architektur im Kontext Ihrer Umgebung. Gleichzeitig werden die verschiedenen Aufführungen aufgezeichnet und in Form eines Dokumentarfilms wiedergegeben.



---
MAP AND ACCES

---


Google Map

Maison du peuple
39, boulevard du Général-Leclerc
92110 Clichy, France








---
SUPPORTS
---
Ville de Clichy, arcadi, cnc dicream, cnap, futur en seine
---
...