archives : a - audio, v - video, p - pictures
FRENCH VERSION


CORPUS/ FREITAG TOWER
INSTALLATION - SEPT 15, 2012 FROM 6.00PM - FREITAG - ZURICH - SWITZERLAND



GOOGLE MAP | ABOUT THE CORPUS PROJECT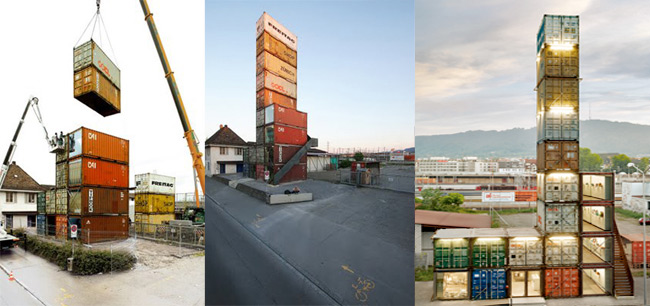 ---
FRANCAIS
---

CORPUS -
MISE EN RÉSONANCE
DE LA TOUR FREITAG
ZURICH, SUISSE -
INSTALLATION - 15 SEPTEMBRE 2012

TOUR FREITAG
Tout près de la gare de Hardbrücke, 17 conteneurs de fret rouillés, empilés les uns sur les autres s'élancent vers le ciel sur une hauteur de 26 mètres. Sur le toit de ce gratte-ciel en matériau recyclé, il est possible d'admirer l'ancien quartier industriel vu du ciel. On aperçoit d'anciennes usines, abritant désormais la scène créative.

La série Corpus propose une approche singulière de l'architecture, visant à révéler la musicalité propre à différents bâtiments en excitant leurs multiples fréquences de résonance. Ce projet offre une expérience de l'espace construit à la fois physique et fantomatique. Chaque événement particulier de la série prend la forme d'un scénario unique. Le temps d'une installation ou d'un concert en public, les matériaux et les structures du site choisi sont activés par des basses fréquences et révèlent les qualités acoustiques de l'architecture et du contexte environnant. En parallèle certaines réalisations sont enregistrées et donnent lieu à un film documentaire.



---
ENGLISH
---

CORPUS -
RESONANT ARCHITECTURE
AT FREITAG TOWER
ZURICH, SWITZERLAND -
INSTALLATION - SEPTEMBER 15, 2012

FREITAG TOWER
Seventeen freight containers piled one on top of the other rise up into the sky 85 feet above the ground in the trendy Zürich West district. From the roof of the recycling skyscraper, one can enjoy a bird's eye view of the former industrial district. Far below at ground level, new life is pulsating behind former factory walls.

CORPUS is a project that brings together sound, visuals and architecture. Based on the principle of vibration in resonance with the built environment, the sound system consists of speakers, vibrators and a score generated in real time incorporating pure frequencies. The Corpus series as a whole offers a unique approach to architecture, revealing the unique musicality of specific buildings by exciting their multiple resonance frequencies. Each special event in the series takes the form of a unique scenario, providing a physical and ghostly experience of built space. For the duration of the installation or public concert, the specific materials and structures of the chosen site are activated by low frequencies and reveal the acoustic qualities of the architecture and it's surroundings. In parallel to the live events, some performances are recorded and shown in the form of a documentary film.



---
GERMAN
---

CORPUS -
ARCHITEKTUR ALS RESONANZKÖRPER
TURM FREITAG,
ZURICH, SCHWEIZ -
INSTALLATION 15.09.2012

TURM FREITAG
Gleich beim Bahnhof Hardbrücke ragen 17 aufeinander gestapelte rostige Fracht-Container 26 Meter in den Himmel. Vom begehbaren Dach des Recycling-Wolkenkratzers kann man das ehemalige Industrie-Quartier aus der Vogel-Perspektive erleben. Man erblickt alte Fabriken, hinter deren Mauern neues Leben pulsiert: Denn mittlerweile haben sich hier viele Architekturbüros, Design- und Grafikateliers einquartiert.

Als Projektensemble stellt "Corpus" einen außergewöhnlichen Ansatz im Bezug auf die Musikalität der Architektur dar, indem es die Klangfarben einzelner Gebäude hörbar macht, durch die Erregung ihrer multiplen Resonanzfrequenzen. Der gebaute Raum wird so zu einem geisterhaften und physischen Erlebnis. Jede Performance des Ensembles entwickelt Ihre eigenes charakteristisches Szenario. Die ausgewählten Materialien und Baustrukturen, die Länge des Konzertes und der Installation werden aktiviert durch die tiefen Frequenzen und enthüllen die akustischen Qualitäten der Architektur im Kontext Ihrer Umgebung. Gleichzeitig werden die verschiedenen Aufführungen aufgezeichnet und in Form eines Dokumentarfilms wiedergegeben.



---
MAP AND ACCES TO THE TOWER

---

Google Map

Freitag Shop Zürich
Geroldstrasse 17
8008 Zürich, Schweiz








---
SUPPORTS
---
Freitag, bda Berlin, cnc dicream, arcadi, cnap, futur en seine
---
...